Tripawds is a user-supported community. Thank you for your support!
Tomorrow will be 4 weeks post surgery for Benny.  He doesn't even act like he knew he had a 4th leg!  Many people have told me that dogs have 3 legs and a spare, but I was unsure about that. He hops around like it's no big deal.  He still has his moments where he yips because he stepped weird or bumped something, but he never makes a peep about it otherwise.
He gets tired out quick because he just hasn't built up the muscle in his remaining front leg yet.  That will come.  It's snowy here in Northern IL so he can't go outside and get around much because everything is so wet and slippery.
We did get him a doggie stroller so we can take him to visit his Grandma in her assisted living apartment and his Grandma that lives in Arizona.  He's a ladies man and they all love him there!  He just can't walk that far.  We used to take Benny and his "little" sister Gia to Home Depot and Lowe's & the Farm & Fleet supply store here in town to socialize in public.  Now Ben can go in his awesome new ride!  I thought he would be afraid of it, but he took right to it!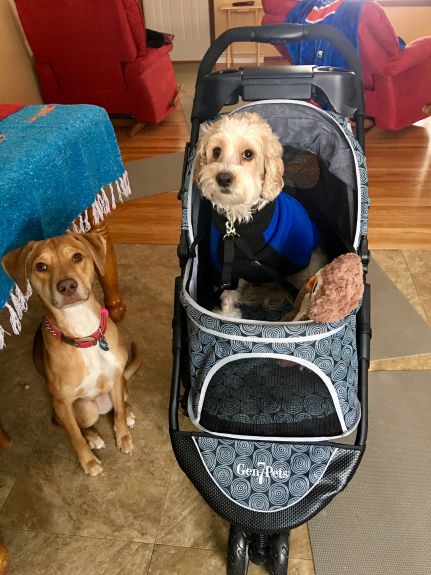 I really am amazed at how well his recovery has been!  We are so blessed that he is adjusting so greatly.
One of the scabs from his incision came off the other day and we found a little staple hidden under it.  He wasn't thrilled about having to go back to the vet again so soon, but he didn't make a sound when they took it out!
He made such an impression on the nurses at the vet.  They all know him there and he gets so much attention from them all.
We are so lucky to have such a great little guy and such awesome and caring people that take care of him!